4 Picture-Perfect Locations for September 2020
12.03.2020
The X might mark the spot, but it's the lens that conquers it. This next autumn, achieve your perfect picture in some of the locations we're about to show you.
There are multiple reasons for us to recommend you September as the perfect month to travel if you're seeking for that outstanding experience, but one of the principals is that September is the month of harvesting the wine grapes.
In the warm Portuguese mornings, grape picking is a privileged activity to participate in. Or spectate, if you're not into doing the activity itself. Moreover, the harvest is one of the most crucial steps in the process of wine-making. It is in this process that the winemakers base their decision to pick based on the style of wine they wish to produce. The climate is also a key-crucial factor that helps elevate to another level the type of wine.
Either way, it's a picturesque, exquisite opportunity to find your perfect photograph, since the profusion of colors is immense.
Sure, a skilled eye will always craft a good photograph even in imperfect conditions. Nonetheless, locations with high amounts of natural light and tranquil living are next to perfect to photograph.
When it comes to luxury tourism in Portugal, most places are untouristed, away from the crowds and full of nature galore, These places, like Alentejo, Douro Valley, Algarve, and Sintra, have been the inspiration to photography that some are considered as masterpieces. Afterward, Portugal has unique architecture, full of stunning details that will transform detailed pictures into the best ones, and let's not forget the hidden-places full of nature and culture. These places will transform your pictures into something that looked that was taken of a fairy tale, that when showing to your friends and family, they will not believe that such places exist and are out there to be discovered and photographed.
Sintra Palaces
Why is it worth photographing?

Few places match Sintra's Palaces when it comes to photography potential and awe-inspiring views. The colors, architecture, and top-of-the-hill location of the Pena Palace makes it a place one ought to visit in its lifetime. Its vibrant yellows and oranges with direct sunlight are stylish and seductive. It's an adult's Disney Castle of sorts.
What else can you do in Sintra?
Next to the Pena Palace, you can visit the glamourous Quinta da Regaleira, a Romantic-style palace with statues, labyrinthic gardens, and tunnels. The real gem is two huge wells with spiral stairways leading to two shrines.
In Sintra still, you can go to the westernmost point of Europe, the Roca Cape (or Cabo da Roca, in Portuguese). A unique lighthouse and a huge cliff deliver a dramatic, powerful scenario for the perfect picture
Douro River Bank - Ribeira (at Porto)
Why is it worth photographing?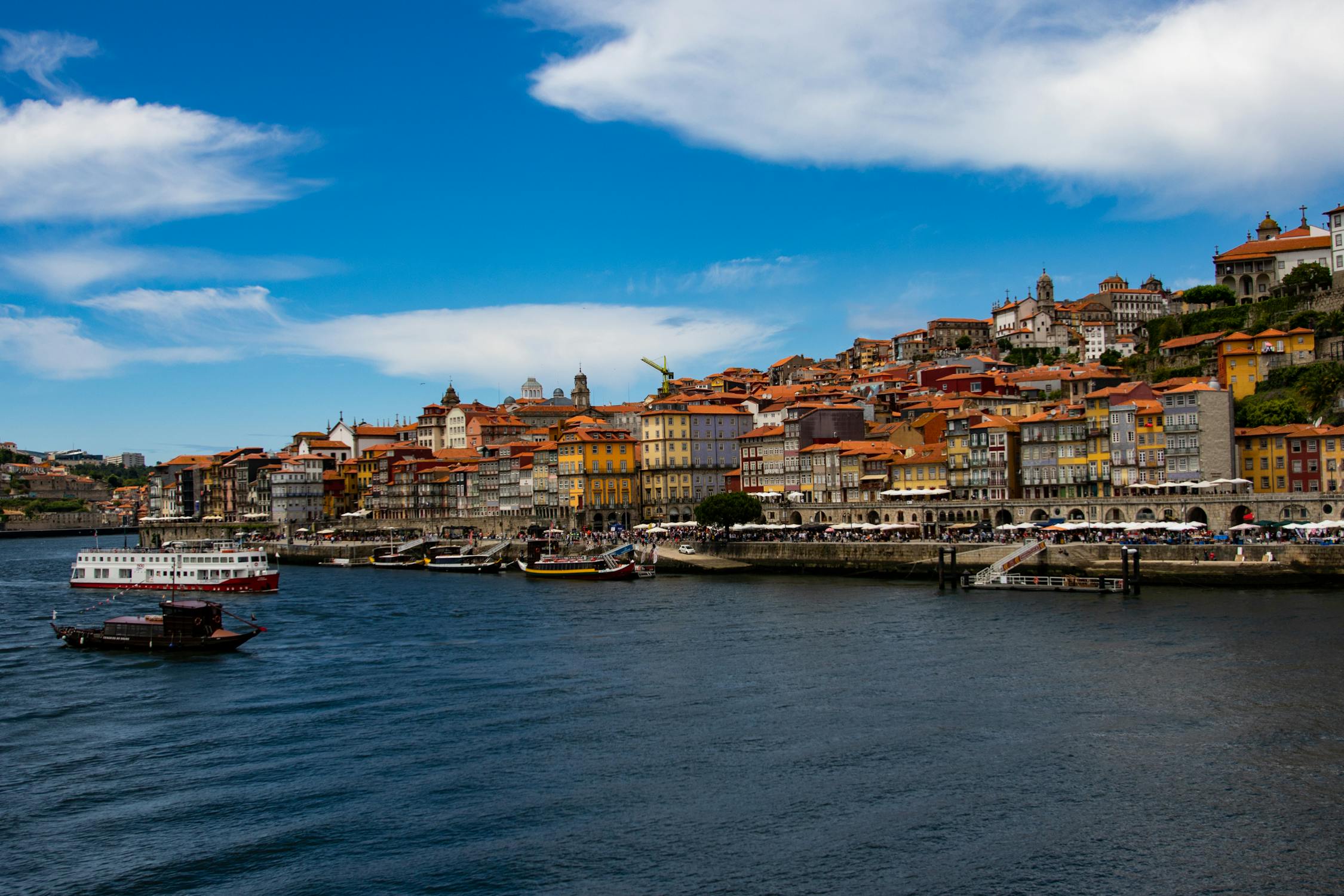 A colorful, old-looking town facing a river full of wine boats. The Douro river banks next to the sea are astonishing on both sides. On the one hand, you have Ribeira, at Porto, a UNESCO Heritage Site full of cobblestone streets and medieval houses. On the other side of the River, at Gaia, you have a handful of iconic Port Wine cellars. Porto's grey skies and light mist are dramatic and atmospheric, giving the scenario a unique tone.
What else can you do in Porto?
"Standing as one of the most eclectic destinations in Europe, it has something to offer to everyone: historic splendor paired with a contemporary buzz, sweeping views, architecture - with one of the most beautiful train stations and bookshops in the world - robust food and wine culture", said the Wine Tourism In Portugal Blog in 2018.
A 3-times winner of the Best European Destination Award (an award open to public voting), Porto has plenty to offer, from Museums to sumptuous caffés, historical sites to Romantic-style architecture. Why not try a luxury tour in Porto and see for yourself?
Douro Valley
Why is it worth photographing?

Douro Valley's vineyards are unlike any other wine regions. On the hills of both sides of the river, natural terraces align on top of each other, giving birth to an enthusiastic scenery. Different shades of green (from the vineyards) and blue (from the water) blend into one picture-perfect landscape never ceases to amaze.
What else can you do in the Douro Valley?
Besides visiting wineries, having some of the best wine tasting experiences in the world, and get to know more about the oldest Demarcated Wine Region in the World, Douro Valley excels in one experience above all: the harvesting. Whether you're just a spectator or a participant in the grape harvesting, the experience is quintessential for all wine-lovers. The opportunity to make wine with your bare hands is unparalleled.
Alentejo's Steppes
Why is it worth photographing?

"Alentejo is the traveler's world best-kept secret. Named the New Tuscany by the New York Times, Alentejo is an endless golden plain full of charm. The wine estates in the region are unparalleled, almost too-much-authentic places, and experiences. A granite-rich soil and skilled winemakers produce wines that have been granted multiple international awards in this region" you could read in our previous post about why visit Portugal.
What else can you do in Alentejo?
The Alentejo region is known for its unique cuisine, tranquil lifestyle, and quiet streets. At Évora, you can visit the Bone Chapel, an entire church coated with bones. Full Roman temples and menhirs are still preserved and possible to appreciate. If you're feeling like it, Alentejo is also the perfect place for horse riding - big plains and multiple stables.
Now that you know about these picture-perfect locations, what about visiting them? Here at Luxury Tours, we have plenty of Private Tours at your disposal, but even better would be consulting with our Travel Experts and book a custom-made tour that ensures you won't miss any of these places we told you about.